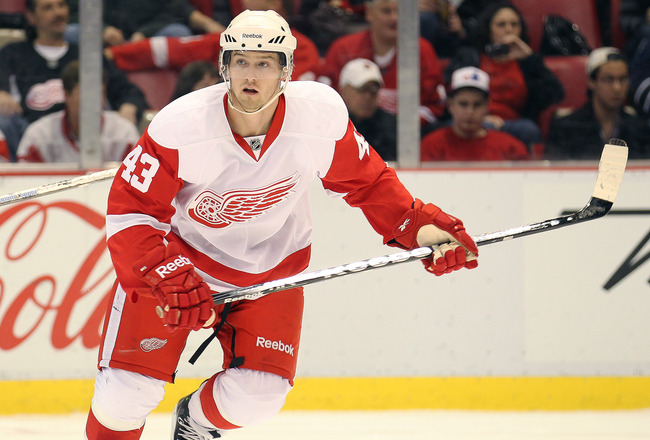 The Red Wings took care of their most important restricted free agent on Tuesday morning. Darren Dreger reported the following, via Twitter:
Without scouring the twitterverse to see if this is already out…Darren Helm agrees to 4 year, $8.5 deal in Detroit.
The averages out to a cap hit of $2.125M until the conclusion of the 2015-16 season, when he'll become an unrestricted free agent at the age of 29. The deal makes him the sixth highest paid forward (behind Dan Cleary's 2.8; but in front of Todd Bertuzzi's 2.075). Of players currently on the NHL roster, only Henrik Zetterberg ('21), Johan Franzen ('20), and Niklas Kronwall ('19) are signed beyond the term that Helm now has, leading us to believe that the team views him as an essential component.
The Wings have two restricted free agents left to deal with in the coming weeks: Kyle Quincey — who will likely command a similar term but will come in around the 3M mark — and Justin Abdelkader — who will take a deal smaller than Helm's.
As of right now, the Detroit Red Wings have 19 players under contract for next season and have spent just a shade over $46M to do it. If the salary cap goes up to $70.3 (as it's expected to do, pending the new CBA), they have a little more than $24M to spend on the four remaining roster spots. Quincey and Abdelkader will likely eat up two of those.
Photo Credit: Claus Andersen, Getty Images