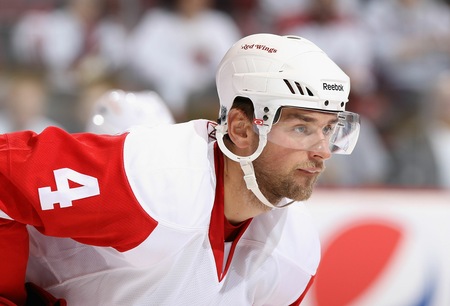 Young Mr. Kindl has had an up and down season. On one hand, he's shown tremendous potential and has looked every bit ready for the top six on an NHL club. On the other, he's looked like a rookie (it's his second season) for long swatches and that's not generally something that the Red Wings put up with for too long.
Wednesday night's game was an example of the latter.
An egregious error led directly to a demoralizing second Blues goal, and Coach Babcock's waning confidence in the blueliner was fairly evident with his post-game comments (made sure to mention that Quincey will be replacing Kindl for tonight's game) and on the stat sheet: Kindl only played two shifts after that turnover-turned-goal against. In fact, he only played 13:45 on Wednesday night — by far the least of any defenseman (next lowest was Ian White, with more than 19 minutes).
One has to wonder if we've seen the last of Jakub Kindl this season. With the playoff beginning next week, it'll be important to have six defensemen ready, willing, and able to contribute — and a bench full of players that trust they'll all make smart plays. With Kyle Quincey coming back from suspension and Brendan Smith's season potentially coming to an end in Grand Rapids soon, you have to wonder how far down the playoff depth chart Kindl will slide.
—
Gustav Nyquist, a young Red Wing whose praises I've been singing as loudly as possible, is getting bounced around the lineup quite a bit. After showing some brilliance playing with Pavel Datsyuk, he was shoved onto the fourth line when Johan Franzen returned. When the top six got a little stagnant, Nyquist replaced Bertuzzi on Datsyuk's line for a few periods. Last night, he was bumped back to the fourth line… before eventually settling in on the third line with Dan Cleary and Justin Abdelkader.
He played more than 14 minutes on Wednesday night, which is considerably more than he played when he was fully entrenched on the fourth line last week, so it may be an indication that he's earned the right to stay in the lineup. Jan Mursak is currently sitting to make room for Nyquist.
Things will be a bit more complicated when Darren Helm is set to return — last we heard, that was the first round of the playoffs. Will another player be removed from the lineup (Drew Miller? Tomas Holmstrom? Justin Abdelkader?) to allow Nyquist to stay in the lineup? The Wings don't always make a habit of playing their blue chip prospects in the playoffs (although Darren Helm showed what made him so special as a rookie), but it would be an unbelievable vote of confidence.
When Nyquist was bounced to the bottom six during Wednesday's game against the Blues, I caught myself wondering if the Wings would send him back down to the American Hockey League (where he was named to the All-Rookie Team). But there are a few things working in Goose's favor: one, the Griffins have loaded up with Red Wings draft picks on amateur tryout contracts (add the newest prospect, Marek Tvrdon, to the link's list) and find themselves with 31 players on the current roster; and two, he's still in the lineup, even if they're still trying to find the right fit.
—
If the Griffins season ends before the Wings' season does, there will be a bunch of Black Aces in Detroit. Without question, Brendan Smith will be one of those Aces… as will guys like Joakim Andersson and Chris Conner and Doug Janik. The only questions that remain to be answered are: will Nyquist be one of them, or will he be a regular… and will Brendan Smith skip that part of his education altogether and be inserted directly into the lineup?
Photo Credits: Christian Petersen, Getty Images; AP