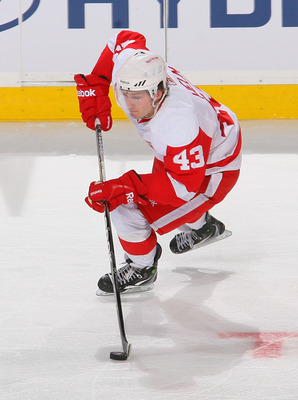 Add another body to the growing injured list. Darren Helm, who sustained an apparent leg injury in a collision with San Jose's Dominic Moore and limped off the ice, has had an MRI performed on his left knee. A "second degree MCL sprain" was detected and he's been shut down for 4-6 weeks.
With only ten games left, Helm is on the shelf for the rest of the regular season. Even on the lower end of that range, he'll likely miss the first round of the playoffs. Joy!
The Red Wings are already without a bevy of players:
Patrick Eaves, injured November 26th when he took a Roman Josi puck to the jaw against Nashville. The jaw is healed, but he's suffering from post-concussive symptoms. He is unlikely to return at all.
Jonathan Ericsson, injured February 25th gloving down a clear against Colorado. An x-ray revealed a fracture, and he was expected back at the end of this month. He should return in time for the playoffs.
Nicklas Lidstrom, injured February 25th when blocking a shot against Colorado. He finished the game, but tests have revealed a "deep bone bruise" in his ankle. He has begun practicing, but "doesn't look close," according to Coach Babcock. Hopefully he'll be back in the lineup in a week or so.
Jakub Kindl, injured March 4th against Chicago. His strained oblique muscle has kept him out of the lineup for 7 games, but should be returning soon. Doug Janik will be returned to Grand Rapids when Kindl can enter the lineup.
Joey MacDonald, injured March 14th against Anaheim. He has been having back spasms and was undergoing tests today. Jordan Pearce has been called up from Grand Rapids, but it looks like we'll be riding Jimmy Howard as much as possible.
Johan Franzen, injured March 16th at practice. Like MacDonald, he's having back spasms and will be re-evaluated today. He is out tonight against Washington.
That's seven players. Replacing them in the lineup are Brendan Smith, Gustav Nyquist, Doug Janik, Jordan Pearce, and Jan Mursak. When the playoffs begin, most of these guys should be set to return, but it's worth keeping an eye on.
Photo Credit: Rick Stewart, Getty Images