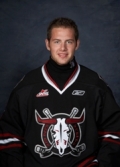 NEED MORE R!
Per the Red Deer Scene, via Griffins Central and Snapshots,
Rebels forward Willie Coetzee, passed over in last months NHL Entry Draft, will still be headed to a big-league training camp this fall.

Coetzee has accepted an invite to the Detroit Red Wings camp, where he will join linemate Landon Ferraro (Detroit's 2nd round pick, 32nd overall).
Coetzee joins another free agent prospect,
goaltender Chris Whitley
, on the list of announced invitees.